Bullet Train in India: #1 Mumbai to Ahmedabad Project Launched!
Bullet Train in India
We saw Narendra Modi and his frequent trips to other countries. While many of us may have judged his travels, there seems to have come to a whole world of good from it. After his Japan trip, Narendra Modi and Shinzo Abe laid the foundation stone for the first ever bullet train in India.
With the country developing at such a rapid rate we cannot even imagine the possibilities that lie ahead. But what exactly is the bullet train project? How long will it take? How much good will it do? – You might have many questions as such and you can find all of these answers and much more below.
Mumbai Ahmedabad Bullet Train
The first ever bullet train will be a Mumbai to Ahmedabad bullet train. This train will pave the path for faster journeys and easier travel. This is the stepping stone for the many bullet train routes in India. With over thousands of travelers every year, the bullet train will not only make traveling easier and efficient but it will also pave the way for development. And it's more than the present heritage trains running on tracks all over the country!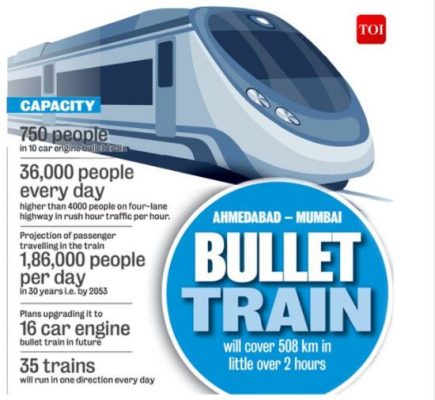 The Indian Bullet Train Project
This first ever bullet train project in India will feature a two-hour commute from Mumbai to Ahmedabad. Not only will this project revolutionize railways but it will also create a better India. This project was started with collaboration from the Japanese official, Shinzo Abe.
This project features the first bullet train in India. This will be an Ahmedabad to Mumbai bullet train. With the vast number of passengers traveling on a daily basis, it's not surprising to see how useful this project can be. Japan has the world's fastest bullet train. So, collaborating with someone who has experience in the field is even more beneficial.
The first ever bullet train project in India is set for completion in August 2022. If you want to check train running status of bullet train, you can visit national train enquiry system website here.
Route Map of Mumbai Ahmedabad Bullet Train
With 92% of the project being elevated, the area of land required is only around 825 hectares. The route will feature India's longest tunnel from Boisar and BKC in Mumbai. The tunnel will be around 21km out of which 7km will be under the sea.
The train tracks will be at a height of 18 meters for most of the bullet train route. The remaining bit which is less than 40km will be under the sea. The view from the Ahmedabad to Mumbai bullet train will be superb.
Time Taken from Ahmedabad to Mumbai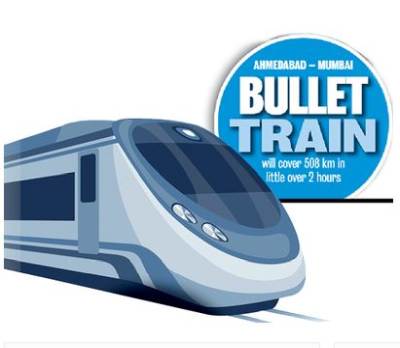 The Mumbai to Ahmedabad bullet train will take around 2.58 hours when traveling at high-speed. The bullet train will cover the entire 507 km distance in 2.07 hours when traveling at rapid high-speed.
Passenger Information
Being a bullet train, the train has to have some serious speed which it does. The train can go up to 320-450 km per hour. So, how many passengers can we fit in one bullet train?
The train will have a capacity enough to accommodate 750 people. Over time, there are plans to expand the passenger accommodation to 1200 people.
Bullet Train Ticket Price
Many citizens are eager to find out how much the ticket might be. The bullet train ticket price in India is said to cost ₹3000 to ₹5000. The price seems justified looking at the huge amount of time we save with the Mumbai to Ahmedabad bullet train ticket price.
Bullet Train Speed
The first ever bullet train in India could have speeds ranging from 320-350 km per hour. The speeds are taken into consideration the number of stops, passengers and the weather. The speed can vary from one day to another. However, the train will be on time and will not be delayed. The officials have said that the staff will be questioned if the train is even late for just a minute.
Ahmedabad Mumbai Bullet Train Stations & Stops
There are around 12 stations on this route from Mumbai to Ahmedabad. These stations are Mumbai, Thane, Virar, Boisar, Vapi, Bilimora, Surat, Bharuch, Vadodara, Anand, Ahmedabad, and Sabarmati. These stations were picked keeping in mind the daily travelers and the major cities.
The Funding
The 1,10,000 crore project will be the biggest bullet train project in India. The funding for this project was provided by The Japan Co-operational Agency at a low interest.
The Employment Generation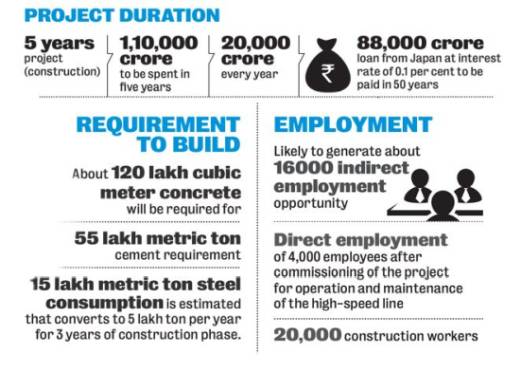 Before we wonder how or why the Japanese have decided to play such a huge role in developing our railways, it's important to understand the good relationship India has with Japan. This first ever bullet train project is said to be the stepping stone into a better tomorrow. Not only is it great for advancement and development but it is also responsible for creating lakhs and lakhs of jobs.
What the Officials said
Many critics have said that while this may be a great move for advancement, the government should also consider spending money on fixing the many issues that our current railways face. Running a service like a bullet train can be expensive which means that the fares can also be very expensive.
A former member of the railway board once wrote in an article that the Shinkansen Trip from Tokyo to Kyoto costs a whopping Rs 7,700. Considering this price, it's not hard to understand how the common man might travel using the bullet train.
There are officials who say with great confidence that this bullet train can do a lot of good for our country. Piyush Goyal said that this bullet train technology will "revolutionize and transform the transport sector." "This will be a historical moment as India will get its first bullet train," Goyal added.
Closing Thoughts
The first ever bullet train project in India has a lot of challenges to become a complete success. While many critics might be concerned about the present state of the Indian Railways or the challenges faced by this project, it's crucial to understand the major benefits from this bullet train project.
With great support from the Japanese, many of our future endeavors in this field could be a grand success. The Japanese have also offered to give fully funded seats to our railway officials to train them regarding the Bullet Trains. So, what do you think about the bullet train project? Comment below and let us know.
Image Source: Times of India