MNTES – Live Train Status on Mobile!
Do you still prefer the desktop website to track train running status on your mobile phones? If yes, you would not prefer it again once you know the MNTES feature which is specially designed for smartphone users!
MNTES
The national train enquiry system's desktop website doesn't load accurately as per the mobile screen resolution as it varies from device to device. Moreover, the desktop version of NTES isn't designed for mobile users. In that case, the travelers can use MNTES feature designed by Indian Railways!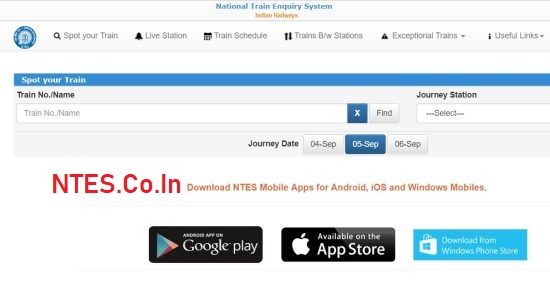 In this article, we will show you how you can use MNTES portal to track live train running status on your smartphones. So let us not waste your time anymore and explain the procedure in detail.
Live Train Running Status on Mobile using MNTES
The overall process is quite simple and it's similar to what you do when you use the official national train enquiry system on the desktop! So here's what you need to do!
Visit https://enquiry.indianrail.gov.in/mntes/
#1. The first thing to do is open Enquiry.IndianRail.Gov.in/mntes on your mobile's browser or just copy paste enquiry.indianrail.gov.in mntes and search on Google. Once the website is opened, enter the train number of the train which you are looking forward to travel or track! All the points are mentioned in the below given image too.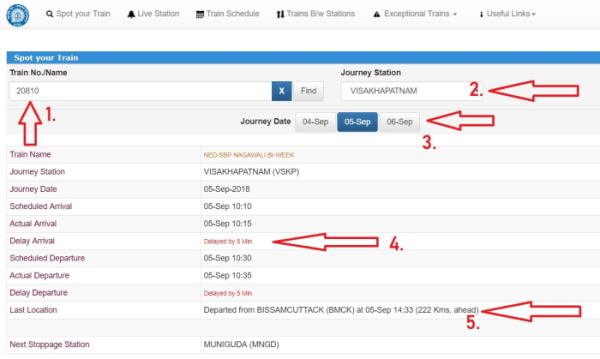 #2. The second step is to select the journey station which we selected as Visakhapatnam in above given image.
#3. Once you select the destination, it's time to select the date which is shown in step 3 in the image. Select the date as per your date of the journey!
#4. Once you complete first three steps, in the 4th step you will find the exact time at which the train will arrive at Visakhapatnam. It shows there's a delay of 5 mins in the image above.
#5. Apart from the current station, it also shows the station from where the train has passed last time and also shows the upcoming station. This will give you enough idea about the train running status.
Closing Thoughts!
So this is a small guide to use MNTES on your smartphones. Well, this is fine if you're using it monthly once or twice but if you're using it on regular basis then you need to install NTES App or where is my train application on your smartphones! This will make your task easier because you need not visit enquiry.indianrail.gov.in mntes all time when looking forward to track live train status!