NTES App Download for Android, iOS & Windows Phone!
NTES App Download
Ever faced a situation when you are in need of getting a train schedule for a diverted train or looking for canceled train status on mobile? If yes, you have landed in the right place. Today, I am going to provide you NTES App download for Android & iOS so that you can check canceled trains, train schedule, special trains and a lot more on your smartphones itself.
There are many Android NTES Apps available on Google Play Store and on iTunes Store. But I have picked the best and official NTES App for you. The reason behind posting this app here is many users get directed to fake NTES App download on their devices and lead to malicious things on their devices. So to be safe, download NTES App from this post only!
Before you get to know the official NTES App Download procedure and the official links to the app, I will list the features of NTES App so that you can use it with ease. I am sure that you would love the features of NTES App download for Android and NTES App for iOS as well. So let's see them!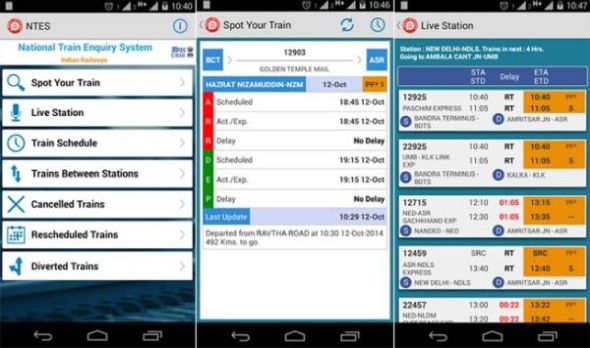 Features of NTES App Latest Version (9.2)
The National Train Enquiry System App download has tons of options related to Indian Railways. It can help you in tracking your train, get seat availability, trains between stations and lots more. Let's find out in detail:
#1. Spot Your Train
It's now easy to Spot Your Train by using Indian Railway App on your Android or iOS devices. Just enter the train number and then select the station! That's all you need to do after opening the NTES App download on your smartphones.
#2. Train Schedule with Save Feature
When it comes to getting a train schedule, people often look for the departure time and arrival time. You might often google it for train schedule and then forget the timings later during the train departure. This is when you can use NTES App to check train schedule and save the schedule so that you don't need to Google when you forget the schedule.
#3. Trains Between Stations & Live Station
If you are unaware of the trains between stations feature of NTES App download, you are sure to love this one. It's important to see what options you have when you got limited time to travel from one station to another. Check the complete list of IRCTC trains between stations and live station status on National Train Enquiry System App only!
#4. Canceled, Rescheduled & Diverted Trains
Passengers get confused when there's no announcement at the stations regarding canceled & diverted trains. But when you have NTES App, you need not get confused because you get complete information at your fingertips and that too live. You can also get updates on rescheduled trains once you install NTES App.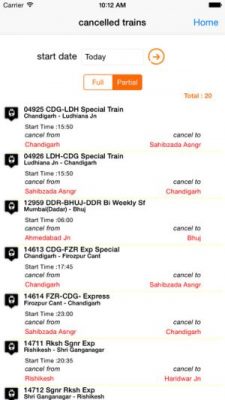 #5. Manage Favorite Trains & Stations
When passengers travel by train for their daily routine or jobs, they often check the train live status of few specific trains. With manage favorite trains option in NTES App, it's easy to save the trains and respective stations so that the information related to specific trains can be displayed on your screen within a fraction of seconds.
So these are some awesome features of NTES App which aren't available in most of the railway apps available on Google Play Store. So let me not make you wait anymore and reveal the simple process of NTES App Download.
How to Download NTES APK 9.2 on Android
| | |
| --- | --- |
| App Name | NTES |
| Latest Version | 9.2 |
| App Size | 5.7 MB |
| Average App Rating | 4.4** |
| Download Link | Google Play |
Here's the step by step procedure to install NTES APK on Android:
#1. Turn on the Data on your Android device and ensure that the device is connected to the fast internet for quick downloading.
#2. Now open this link to download NTES App or visit Google Play to download official NTES app.
#3. Let the app get installed on your smartphone or tablet which may take few minutes depending on your internet speed.
#4. Launch the app once it's installed and navigate through various options to utilize NTES App in a perfect way.
This is all about installing NTES APK 9.2 on your Android smartphones. You can also try where is my train app which is similar to NTES App. Now let's see the complete procedure for NTES App Download for iOS devices.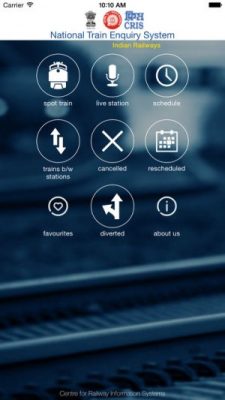 NTES App Download for iOS [iPhone/iPad]
The procedure to download National Train Enquiry System app on iPhone or iPad is similar to installing NTES APK on Android. Follow the below-given process to download the app on iOS devices:
#1. Open Safari browser and search for "National Train Enquiry System App."
#2. Else, just visit this iTunes Store link to download NTES application directly on iPhone/iPad.
#3. Once the download process is done, you can now install it on your device.
#4. Open the application and run it to get information on National Train Enquiry System.
This app works for iOS 8.0 or later versions, even on iOS 11 which is the latest version of iPhone and iPad. The app size is just 28.6 MB so it wouldn't occupy more space on your device.
NTES App for Windows Phone
Not only for Android & iOS, the NTES App is also available on Microsoft's Windows app store. The app is available for Windows 10, 8.1 & 8 based mobile phones. You can download the Ntes app for Windows phone from here. Once you download the app, install it and start using the live train status feature on your Windows smartphones.
Final Words on National Train Enquiry System App
I hope that the complete tutorial of National Train Enquiry System App download process is as easy as learning ABCD! If you face any issues in download this app, you can comment below and I will solve your issues within no time. Stay tuned to National Train Enquiry System portal for more updates!