UTS App: Book Unreserved Railway Tickets with UTSonMobile!
UTS App
Finally, Indian Railways have now launched the paperless platform to book unreserved tickets for passengers all over India. By using UTSonMobile official website of Indian Railways, you can create an account and book general tickets (chalu tickets in Hindi) without going to the station.
What is UTSOnMobile?
UTSonMobile was launched earlier for Chennai and Mumbai railways only. But today, the app has been launched pan India! By using Utsonmobile.indianrail.gov.in official website, you can book unreserved tickets from anywhere in India at any point of time. This app will be supported by cashless payment and it will also provide refunds if you cancel the ticket before the given time as per the railway rules.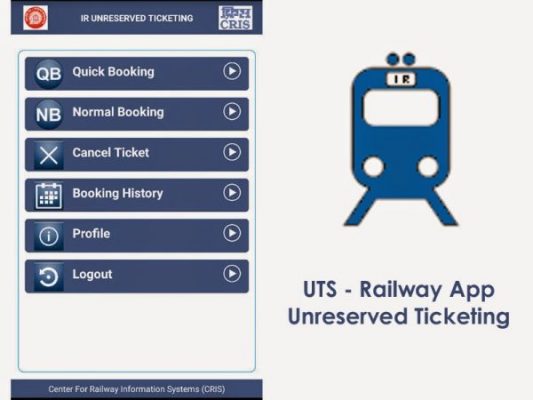 How to Download UTS App on Android?
The UTSonMobile based app is released by Indian Railways officials on Android platform. The app can be downloaded from Google Play Store by clicking on the link here. Once you download UTS App on Android, here's the process to follow to get yourself registered on UTSonMobile platform. Enter the below given details of yours. Here's what the UTS App asks you while registration.
Mobile Number
Name
City
Default Booking Train Type
Class
Ticket Type
Number of Passengers
Frequently Travelled Routes
Once you enter these details, you will be able to get the paperless ticket right on your mobile. So you will not need the hard copy of the unreserved ticket once you book through UTS App or UTS Mobile application. This ticket booking can be done online with the use of UTS App or UTSonMobile official website. Besides that, you can also check updated train timings here.
How to Download UTS Mobile for iOS?
According to CRIS, that has developed the UTS Mobile Online Ticketing Platform, the iOS version of UTS App wasn't released before Android as Indian users are mostly on Android. But the UTS App is also launched on iOS. You can download the UTSonMobile Online Ticket System from here. The process to get a paperless ticket on iOS devices is similar to what is mentioned in UTS App for Android in above process.
Most surprisingly, despite of very few users on Windows devices, the UTS App has launched on Windows store too. So if you are the one using old Nokia Lumia phones based on Windows operating systems, you can download it here.
Stay tuned at National Train Enquiry System blog for more latest updates on Indian Railways!