Poorva Express Accident: 13 Injured as Howrah to New Dehli Train Derails!
Poorva Express Accident
Kanpur, Uttar Pradesh 20th April 2019: Today at 12.54 AM, Poorva Express derailed near to Kanpur station. As per the reports coming in 14 people have been injured in this Poorva Express accident. Total 12 coaches have derailed and 4 of them overturned due to which the number of people injured may rise. All the trains towards Delhi have been delayed due to this derailment today.
900 passengers were traveling in the Howrah to Delhi train and as soon as the Poorva Express accident happened the local police arrived at the spot to commence rescue operations. The injured people were immediately taken to the local hospitals for the treatment. The train departed from Prayag and it was on the way to New Delhi when the Howrah Delhi train, Poorva Express derailed from the railway tracks.
The derailments in India have seen a major rise in the past few years. Poorva Express train accident occurred near Rooma railway station in Kanpur. Luckily, there are no causalities reported so far in Poorva Express accident inspite of train was running at 100 KMPH speed. So that's something a relief for the families who were traveling in the train.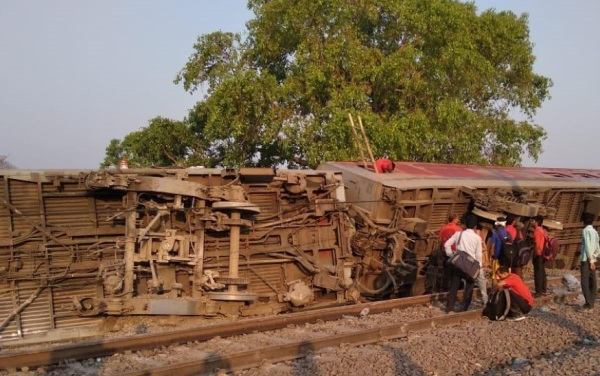 Howrah to Delhi Train Derails!
According to the CPRO North Central Railways, the down line (Delhi-Howrah) of the route has been cleared and the traffic will resume soon. The CPRO added that the restoration of the up line (Howrah-Delhi) line will take time, and may be restored in the evening at around 4 pm.
"Restoration of Up line (Howrah to Delhi) line will take time. At the time of restoration of Up line, Down line will also be closed. Evidence is being collected for the investigation of the cause of the incident," said DRM Allahabad Zone.
The coaches B1, B2, B3, B4, B5, A1, A2, HA1, S8, S9, a pantry car and a power car were derailed in this Poorva Express accident today. In such cases, tracking the train is very important as you might want to know the exact location being a normal passenger. In such case, you can where is my train app for Android & iOS both devices or you can try ntes app as well.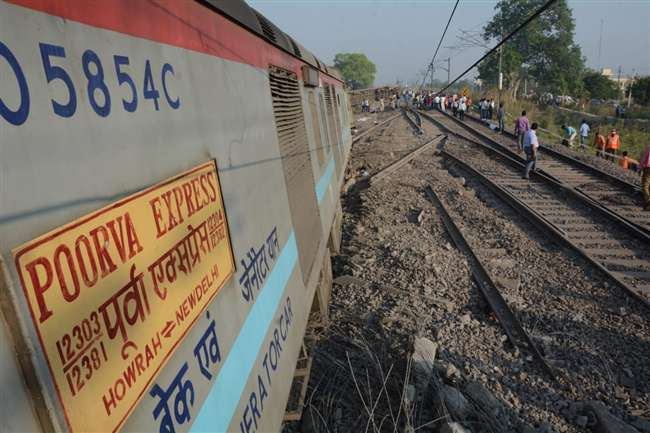 "At 12.50 am, 12 coaches of the train derailed and the up and down line was affected because of that. No casualty has been reported in the incident. Railway officials soon rushed to the spot. The first few coaches of the train that did not derail were brought to Kanpur Central and all the passengers were sent to Delhi via a special train at 5.45 am," said a statement released by North-Central Railways Allahabad public relation officer.
"Rescue operation is underway. No casualties have been reported till now. Buses are being arranged to take passengers to Kanpur Central. Railway authorities have said that they are arranging a train for passengers from Kanpur to Delhi," Kanpur District Magistrate Vijay Vishwas Pant was quoted as saying by ANI on Poorva Express accident.
Railway Helpline Numbers
For further assistance and queries, the Railways has also issued helpline numbers: 1072, 9454403738, 9454401463, 9454401075, 9454400384 and 0512-23333111/112/113. Stay tuned for more railway news on ntes.co.in here on Poorva Express accident today!