IRCTC Makes Massive Blunder, Allots Side Upper Berth to 80-year-old Female Senior Citizen!
It's already enough pain to travel long hours on a train. Now, imagine an 80-year-old climbing the side upper berth during this experience of difficulty. This is how ridiculously inconvenient IRCTC's services are. It's really unbelievable to imagine that a body as large as IRCTC can make such a blunder.
Indian Railways is the largest governing organization, connecting thousands each day. The system empowers millions of commuters by reaching them to their respective destinations. At the same time, it's unfortunate to admit that they lack the basic sense of ethics and principles. As the popular saying goes, With Great Power, Comes Great Responsibility. However, that is hardly visible through the recent, outrageously shocking services provided by IRCTC.
Is this how India is going to represent betterment? By treating senior citizens with the least amount of concern possible?
Let's be clear about one thing – it's quite understandable that there might not be a seat available in the lower berth for this particular senior citizen passenger, however, is there no way to inform the customer regarding this beforehand, especially in a technologically driven world such as ours?
The system of Tatkal booking solely exists to make the lives of the passengers more comfortable, by providing them with quick, easy and preferred-oriented options. However, that does not seem like the case in this situation.
So can't there be an adjustment of a single lower berth in normal booking category and move this side upper berth to Tatkal quota? At least in such cases like these?
IRCTC Ticket Booking System Compromised?
Well, there are lots of questions running through my mind when I first saw that IRCTC had given side upper berth to an 80-year-old lady.  Let me explain the complete scenario in detail so that everyone can get an idea of what happened actually and why it's ridiculous!
When I first came across this incident, I truly didn't know how to react to it – not because of the sheer heartlessness of the situation but because of how ridiculous IRCTC can actually be. The booking took place on 17th November 2017 at approximately 9:30 a.m. wherein options of around six to seven seats under the 2nd class AC compartment were showcased as being available.
The journey was to take place from Secunderabad to Ahmedabad on 4th December 2017. Since my 80-year-old grandmother, Mrs. Manjula Patel was traveling with me, I decided to select the option of Side Lower berth for obvious reasons. As far as I am (Harshil Patel) concerned, I really did not care about which spot I would be given.
After filling the required details and making the payment successfully, I patiently waited for my journey date to arrive. This was only to find out that my grandmother had been provided with a side upper berth. To say I am dissatisfied with the services by IRCTC is an understatement. Causing inconvenience to any nature of passenger merely reflects the quality of foundation that one of the largest networking body – our grand Indian Railway – stands upon. Kudos to that!
I am worried and terrified because there's nothing that I can do in this democratic country except expressing my views on my personal blog.
Here are Complete Details of My Journey
Here's the screenshot of the ticket. Few details are marked in black and hidden due to privacy concerns.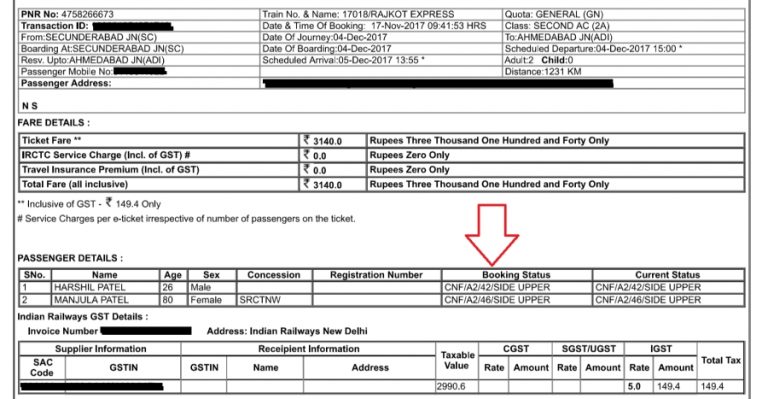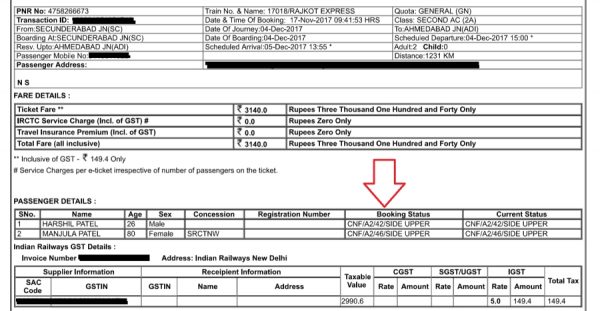 Date of Journey: 4th December 2017
Date of Booking: 17th November 2017
From: Secunderabad
To: Ahmedabad
Seats Allotted: Harshil Patel, A2, 42 (Side Upper),  Manjula Patel, A2, 46 (Side Upper)
PNR Number: 4758266673
Train Number: 17018
Train Name: Secunderabad Rajkot Express
Note: This is not a publicity stunt. This is for real. If you want a proof, you can manually check PNR Status by taking reference from the above-given PNR Number in the screenshot or in the details above. Here's yet another real proof that this is not a fake one, it's full proof real!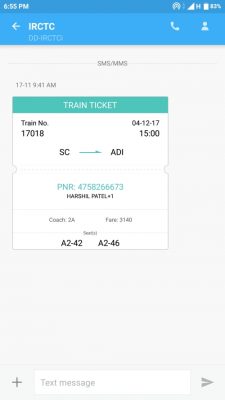 I request and urge IRCTC to give a special lower berth quota to senior citizens no matter what. And if there are no seats available in lower berth then a user must not be able to book a ticket or must show a warning that senior citizen will not be given lower berth. If a user accepts that he/she's fine with upper or middle berth, then it's up to the traveler how he/she manages.
That's all I had to say. I know I can't change the IRCTC booking system by posting my personal problems on my blog. But at least from next time travelers like me will get alarmed while booking the tickets for senior citizens in the future. Stay safe, travel safe!